Reports from Bridges Orphanage in Cambodia – Fall 2013
Please remember, as you look through my reports that to Sitha and Mom I was just another tourist when I walked in late October 2013 saying: " I am from the USA and I'm here to help!". To the kids I was just another curious visitor, one of hundreds each year. The kids get smothered with bursts of attention and affection, give back a big smile and a song as that is the nature of the people but real connections are instinctively avoided by the children.
Being aware of this, I function in all my orphanage and village work in Cambodia, as would an outside contractor working in your home. I follow my work plan and welcome the kids help. The big difference is, I'm the contractor who doesn't go away two hours later, but shows up every day for a month or two. When they realize I am there because I truly care about them (not as a photo op or vacation event) then things start to change.
Angel, a bashful quiet girl, didn't  acknowledged me the first few weeks, and then I noticed she'd bring me water when I worked, sit quietly beside me as I ate and generally hovered about. One night as I checked my notebook I found a message from her… "Champi, I lov you". It was very touching. I had become her 'Grandpa'.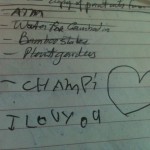 —————————————————-
I arrived in Cambodia at 11:30 Pm on Wednesday October 24 after a relatively short 29 hour trip. On Thursday morning I had the good fortune of happening upon Vet Toch my trusted Cambodian sidekick. He is a loyal friend driving me around, translating and helping me out on the jobs.
Thursday morning we visited building supply companies, pricing and determining the availability of wood, tools, plumbing supplies and sand. In the afternoon I made my way to Bridges and was pleased to find all the children engrossed in embroidery as their daily arts activity.
Each day they attend a half day of school, have 1.5 hours of tutoring in English, and do a an hour of crafts or singing and dancing. The boys have a good little soccer team but can't play in the local school league as they have no coach, uniforms or shoes.
So the kids are engaged.

On Thursday I also walked the property and reviewed the project list. Sitha also made some suggestions two of which I've acted on at once.
He'd like to fill all the open water ditches and put some sort of subsurface sewer/runoff lines in their place and he wanted to replace the burned out water pump that supplies the water tower.
The ditches, filled with standing water and sewerage, have always been an issue for me. In our application to Rotary some pictures were included of the mosquito infested ditches.
He was on board with sustainability and very interested in the Mushroom project but it was decided it was just too much of a commitment and we opted for a chicken Coop and fish pond instead. Valuable protein!
Friday we replaced the water pump and re-plumbed it, purchased tools, started, with the help of the kids, dismantling the pig pen ( to make room for the chicken house) and ordered 200′ of 8″ pipe and fittings for delivery on Sat.
——————————————————————
My big sports ambition at the moment is BCI Soccer team. Today we ordered shoes and uniforms for all the boys.
Tomorrow we start work on a soccer field and on Nov 24th we have registered for the local NGO and school league.
The kids are psyched.
The kid's names are interesting. I'm giving them nicknames because I can neither remember nor pronounce their real names.
They, for instance, renamed Sitha's second son Lucky (Somnang) because he fell from a third story window and survived. Another boy's name is Makara (January) because he arrived without a name in January or something like that.
The sun was brutal today but we still got a lot done.
Tomorrow is a really big day. I've got a mason and an electrician coming and the kids have off from school so lots of help with finishing the ditch.
Pic's #1 & #2 below depict the open sewer ditch behind the newly constructed latrine. As is often the case there were unintended consequences of the generous gift of a latrine. It drained into a stream which runs on three sides of the orphanage creating an open sewer ditch. The kids, Vet, Sitha and I installed a sealed 8 " pipe directing the sewerage elsewhere and then filled the ditch with sand and gravel.
——————————————————————————
My first order of business at Bridges was reviewing the proposed projects and doing a needs analysis in the orphanage. There will be, as I discussed before leaving, additions and deletions from the list of tasks and that has been the theme all week.
I'll use bullet points to outline what has been accomplished.
Tasks completed:
Jet pump installed. Additional work  included rewiring it and building a simple pump house
Water test turned into the lab on 10/31
Rewired the entire kitchen with emphasis on the kitchen jet pump that was jury rigged
Checked kids room for safety replacing two outlets and two overhead lamps that had seemingly been damaged by lightening
200′ of 8″ sewer pipe was laid in the open sewer ditch and a valve and dam was built at one end. The work will continue for the next three or four days as we fill in the open ditch. Thank god for my willing helpers. It is 90 degrees!
Purchased 16 soccer uniforms, socks and cleats. Nothing being easy here we had to have the uniforms and socks brought here from the capital Phnom Penh (so they would match) and a lady had her son bring the shoes from Thailand) We have signed the boys up for a local tournament around Nov, 24th. The kids are thrilled to be able to participate in a real event for the first time.
               ——————————————————————————
Picture below shows the start of our simple well house…wait until you see the end product.  New classroom built in 2013 with the help of one generous donor is visible in the background, This building was not here in January of this year. Great addition….the kids use it for school, doing homework, singing and socializing.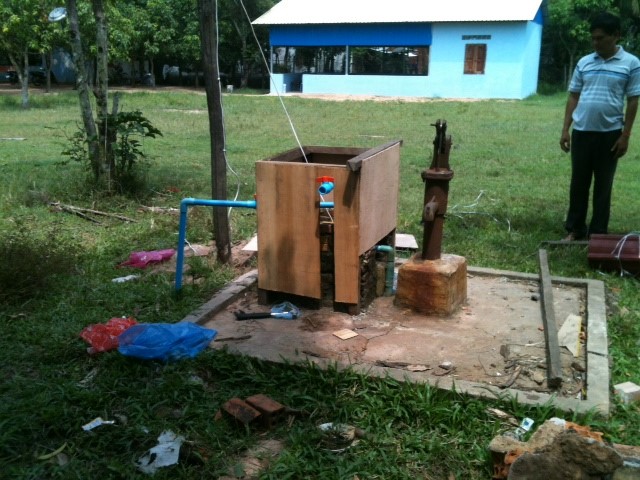 —————————————————————————-
Today is going to be an easy day, I hope, with a limited amount of shoveling  and then bed repairs and photos of the kids. What a bunch!  Very nice kids.
The last two days we've moved about 30-35 cubic meters of dirt into the former sewer ditch and onto the evolving soccer field. Tough work in 90 degree heat.
I've been running out of steam by 12 or 1 and then switch to something easier in the afternoon such as working on their beds.
Three kids sleep in each 1.4 x 2.0 meter bed. It is crowded for the bigger boys and girls so I bought two new beds … One each for boys and girls and replaced one of the badly damaged ones.
Today I'll take my new drill and screws and go from bed to bed replacing lattes and tightening up the frames. At least I'll start the work. It'll soon be taken over by the industrious children.  I'm very pleased to get the beds in shape. It is not a dramatic improvement but as with filling the ditch and soccer uniforms it goes directly to making them happy, healthy and comfortable.
Next week I'll inventory their bedding and mosquito nets, buy each kid a plastic container to go under their bed, and make sure each kid has a simple bureau. I'm also suspending a rod from the ceiling thus creating a long cloths rod. Currently their cloths are stuffed into three very primitive bureaus and on makeshift book racks. Yesterday as I moved things about picking up and moving clothing piled on the floor to inspect the beds various insects were scampering out of their clothing.  It didn't faze the kids they just give things a non-chalet shaking.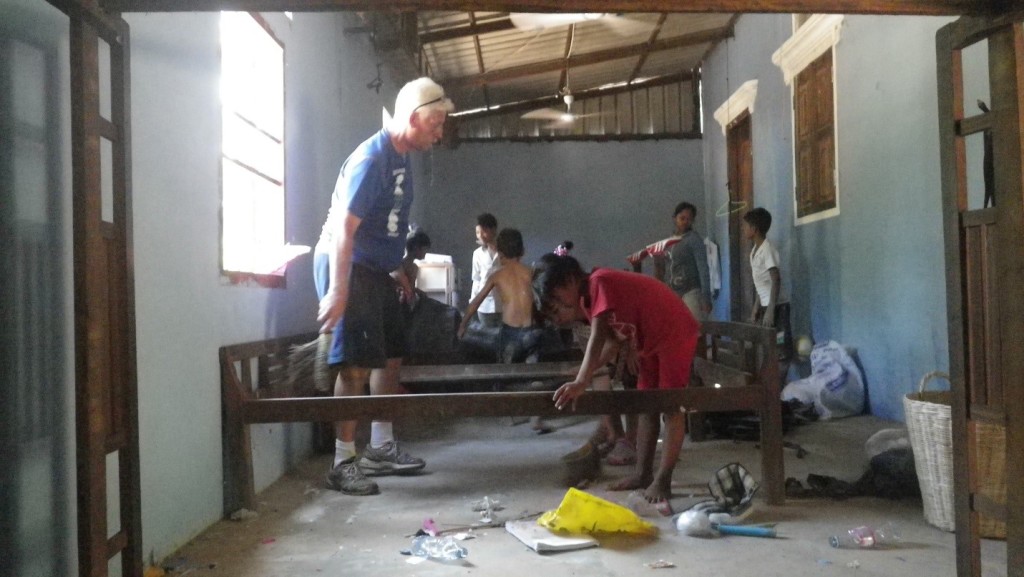 Last night a small group of us guys from the hotel were having a beer downstairs and discussing how these poor kids inspire us.
At Bridges the kids help all day smoothly filtering on and off the job site. It goes in 30 minute cycles … hard-work slowly evolves into laughing and joking and then riding on the wheelbarrow escalates to running over each other then to dirt throwing and finally bailing dirt on each other by the shovel full and then they disappear one by one to de-sand and the whole process starts over . Vet, Sitha and I really enjoy it.
So I'm going to breakfast. No running today as I'm biking to the orphanage so Vet can have Sunday with his family.
————————————————-
Today I'm doing passport stuff (extend visa), design work on the chicken house and  at three I'll go out to Bridges by bike (same model Mary Poppins would use). We are having opening night for our little soccer field and have invited the village kids to play a game with the Bridge's kids. Sitha and Mom are very supportive of the village and this will serve to intensify the bond.
The filling of the ditches is complete and now we just need to do some clean up. It was a physical week and when I announced I'd be doing private chores this weekend there was a communal sigh of relief.
The work is going well after 3-4 days of regrouping.
Yesterday a Canadian Rotary group showed up and did some interior painting. At the same time a Cambodian/ American donated some money to put drop ceilings in the kids rooms. Sitha asked that I oversee the installation and I soon discovered that the ceilings would cover up some very bad wiring so I hired an electrician to rewire the kids rooms and the outdoor common space. At the same time the interior work was going on Sitha , the boys, Vet and I were installing the pond overflow and framing the chicken house.  A busy day!!
The end product will be rough but the kids have been sawing, nailing, measuring and being great work buddies.
Great Fun!!
    ——————————————————————————
Week Number 4 was all about the Chicken Coop. I'm sure there are benefits to building a coop with rare hardwood (mainly mahogany) but cutting it with simple hand tools is not one of them. It is so dense that we had to pre-drill it in order to drive nails.
We had a couple of chicken house omens. One of the neighbor's chickens snuck over under cover of darkness and left us a little egg. And then  I arrived on Friday to find 3 newborn kittens living comfortably in apartment 103.  The Bridges Chicken Inn (BCI) will have 12 apartments. The rent…one egg per day.
We are ready for the chickens who should arrive mid-week very tired from their annual migration over the Himalayans from Chickastan.
Completed by Fri the 22nd:
Chicken House complete
Purchased first batch of 100 minnows for fish pond
Opened four sewerage holding tanks , pumped them and resealed them
Purchased storage box for tools and materials
Purchased washing machine and had it installed.
Sunday the 24th was the big day for the team. A real tournament at a real soccer club–Galaxy Soccer. The girls wanted to come and cheer so with 4 Tuk Tuks and a couple motor scooters we moved the whole orphanage to the three field complex for a half day of intense soccer. There were no less than 50 teams and our boys finished 1 and 1.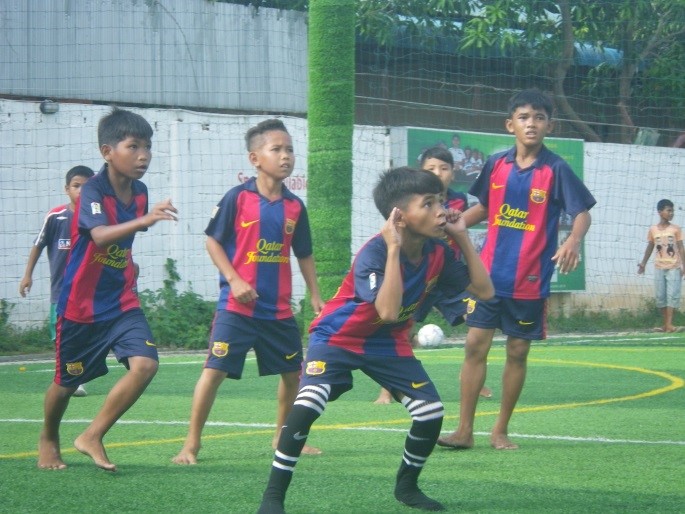 ——————————————————————————-
The Toronto Rotarian's, due to a mix up at their planned project, have undertaken to paint the kid's rooms both the walls and new drop ceiling. They finished an excellent job on Thursday,
As reported earlier I hired an electrician to redo the fans, lights and receptacles in the kids rooms. In addition, I had him put new lights and receptacles in an area that will become a computer workstation, put lights in the toilet facilities and a 20 amp circuit breaker in the kitchen.
We removed all furniture from the kid's room to facilitate the painting and the Rotary group upon seeing the dirty crooked cement floor hired a contractor to come in and tile the floors. It is done and the kid's dorms are now vastly improved over the outdoor sleeping arrangements last year. All the furniture was washed and checked over before we replaced it.
Second coat of paint on the chicken house and in big yellow letters "Bridges Chicken Inn' courtesy of Jack from the Toronto Rotary.
And over the door "rent: one egg per day".
Another 100 minnows were acquired along with fish and chicken food and storage barrels for the food. We are ready for chickens which unbelievably are hard to buy. Unbelievable as they are always underfoot and often sitting on the lunch table.
Visited Hin's little twin brother and sister and decided to go into the village next week and do some work on the bamboo hut in which they live. (See Hin's story)
Made some progress on the raised beds but had to quit on Friday as the temperature soared. We ended up doing some post tile work touch up and floor washing before we moved the girls back in.
Completed lots of small jobs and had a good week which motivated me to change my travel plans and stay another 9 days at Bridges. Filled with love, smiles and thanks…it's a hard place to leave.
Just a few days to go and a couple of small projects. This morning. Monday, I am meeting with 'Water for Cambodia" to gather information on a possible future water project involving wells and water filters in the tribal regions.
In addition, Janice and John, big supporters of the orphanage, Sitha and I will meet to discuss future projects at Bridges and the governance and administration which we feel should be in place to support future projects and insure the long term well being of the kids
Last week we:
Finished the four garden plots
Purchased and planted 4 banana trees, 3 Coconut trees and two lemon trees
Purchased bedding and mosquito nets. laundry detergent and other odds and ends
Purchased and moved the chickens into Bridges Chicken Inn (we've already got half a dozen eggs)
Completed the roofing job at Hin's infant siblings hut
Purchased two tables for the new computer area (within which we put outlets and lights a couple weeks ago) and a small desk for the devoted English teacher, Srey Vy, who stands throughout her three hours of English tutoring each day. She is a happy girl!
Took all the kids pictures in order to update the website and the family tree here at the orphanage
Cleaned the newly renovated (new drop ceilings, paint, tile floor and repaired beds) sleeping areas and moved all the furniture back in. A huge improvement for the kids…HUGE!! The Rotary of Toronto supplied the funds and sweat equity. Great work.
The girls room. A far cry from the rusted metal roof with a blue tarp as a wall that I saw in January  of this year. It is amazing what a few dollars and some elbow grease can accomplish in Cambodia.
Click here to see how far our $4,000 budget went.
Many helped make this possible and our Bath Rotary was key supporter.