CIO is a BIG happy family as these photos show.  The kids work together, play together, study together, do their laundry, prepare meals and clean up after meals, and do crafts as a group.  No toys, no cell phones or video games.
The young ladies took it upon themselves to clean up a back corner of the orphanage as the little ones played a made-up game with their crushed bottle caps.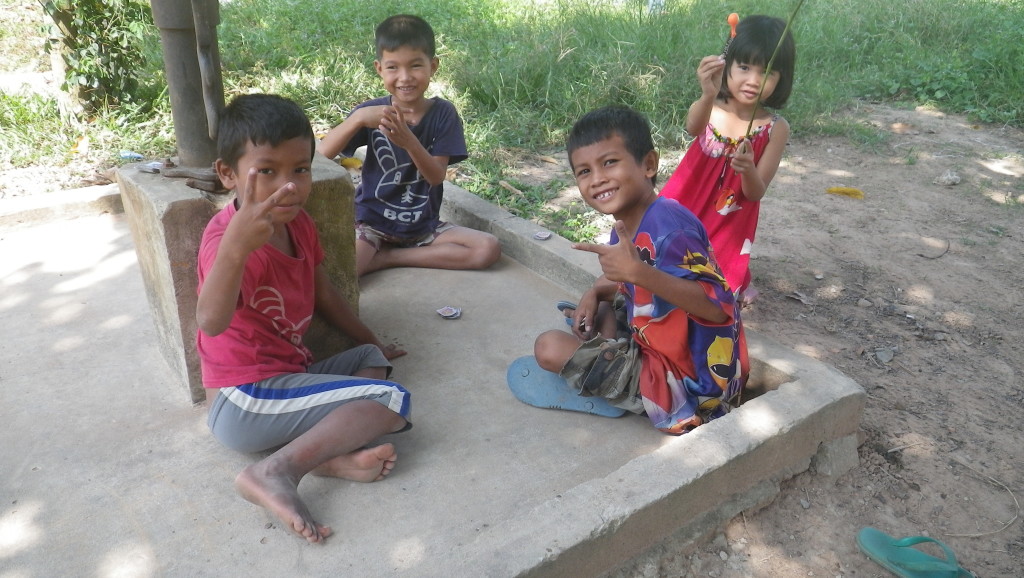 The little ones playing a made up game with crushed bottle caps.
Srey Vy teaches English class;  and on the other side of the orphanage a group of kids prepare lunch.
Sanitation is important to Srey Mom, so special care is given to clean up.
Playtime is important.  This year the boys' uniforms were given to the girls, so they could compete in the local tournament.
Here, I am playing with the little ones, and in the background you can see the bamboo huts on concrete piers.  They look neat, but the roofs leak badly, and the walls are flimsy, but they are home.
The kids working together to fill an open ditch filled with debris and mosquitos. Can you feel the meaningfulness of these pictures? Kids working together as a family to better their common good…no one is cracking the whip. The way life should be!
The issue is, this is temporary housing.  The landlord could force them out tomorrow, and these children would be on the street again as they all were in the spring of 2014.
Many of us who know their kind mother and father, Srey Mom and Sitha, and know the joy in the hearts of the children wish to protect the kids by finding and developing a new orphanage that will be home for CIO – forever!
We need to raise $125,000 to buy land and construct a new orphanage.  Wondering where your money will go?  View our land purchase and construction estimates here.
Hopefully you will find it in your hearts to help us keep this unique, lovely family together.